Martechnic Navigation LTD
Shipping, Trading and Transportation Co.
Martechnic Navigation LTD
Shipping, Trading and Transportation Co.
ABOUT US
Welcome to Martechnic Navigation Ltd
Martechnic Navigation Ltd. (MN) was founded in Piraeus in 1972 by a group of young engineering consultants and naval architects. At that time, the company's main activity was to offer specialized services in small craft design and conduct investment studies in shipping and shipbuilding. Over the last fifty years, MN has grown dynamically. Relying on the collective experience of its staff, MN has developed the scope of its services and the dimension of its activities to become a successful company with international presence. Today Martechnic Navigation Ltd. serves the international shipping community through quality services covering Marine Engineering, Ship management and operation and providing comprehensive, integrated support in all relevant fields: Bunkering and Lubricants Supply, Ship chartering, sale and purchase of ships, technical consulting, ship repairs, Quality Assurance, Quality Surveillance, Valuation of ships, Hull Machinery and Industrial Equipment Insurance surveys, Shipyard Management, Offshore Oil Exploration Equipment, Feasibility Studies, Ship Spare-Part Supply and Commodity trading.
Martechnic Navigation Ltd., among the above activities, has also created Aquarius PLUS to provide high-quality water treatment systems and accessories to our marine clients, helping them to have clean drinking water on their vessels.
Reflecting the philosophy of the company, MN's goal is to provide personal service through the expertise of specialists and by offering equal attention to each project undertaken on behalf of our clients, regardless of size.
This commitment, together with our vast experience, provides the basis for the high-quality support we offer worldwide.
A journey in time and our History
Four young engineering consultants and naval architects founded Martechnic Navigation LTD
Taking the responsibility of site office for attendance of New Building in Japan
A chartering department start operating and taking the responsibility of caring cargoes on behalf of CNAN – the national shipping line of Algeria with branch office in VIENNA
Management of 7 vessel chartering and operation.
Branch office of Hellenic Register of Shipping in UAE
A Worldwide network for Bunker and Lubricant Supply for Vessels
A supply station of Fuel and Lubricants in Piraeus , Pylos , Kalamata
Branch office in London for International chartering , S+P and insurance
Branch offices in Romania and Bulgaria promoting barter trading
R/D activity for equipment controlling quality and quantity of Bunker Fuel and lubricants. Systems sold to a fleet over 3700 vessels
Proposal to IMO for an Equipment reducing the Greenhouse Gasses.
Partnership with BP for development KRYSTALLON (Sea Water Scrubber - SWS)
Network in Greece for distribution of commercial lubricants in Greece for Mobil, Chevron , FL , Brougarollas etc
Installation of first SWS on M/V Pride of Kent
Installation of SWS in Power Plant in Lemnos
Management of 4 vessel and COA for Bauxite on Behalf of Alouminion of Greece
Production of Aquarius Plus for clean water onboard
Between 2010 and 2020 the company started a new production line for Aquarius Plus and expand its network and its operation in Asia undertaking numerous projects for chattering and ship management
Management of 7 vessel chartering and operation for the transportation of Iron ore from Sierra Leone to China
Our Mission
Maritime Environmental Protection
Martechnic Navigation Ltd has been working for the last 20 years and developing the environmental protection of the seas by developing measuring equipment, Scrubbers, and drinking water purifiers, eliminating more than 16,000,000 plastic bottles from the seas.
Each year, Martechnic Navigation Ltd. organizes various campaigns to collect plastics from the coastlines in different parts of the world. Martechnic Navigation Ltd. is a staunch supporter of the 17 United Nations Sustainable Development Goals (SDGs). Promoting the conservation and sustainable use of the oceans, sea, and marine resources for sustainable development.
Our Services
Our scope of services gives you the competitive edge.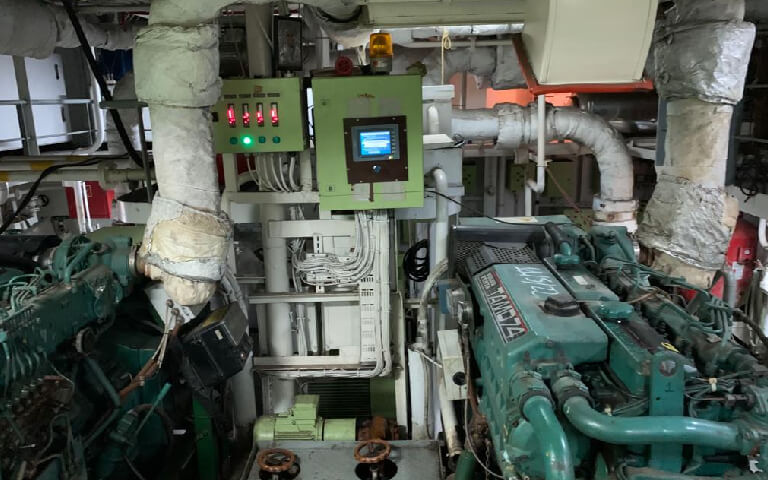 Martechnic Navigation Ltd. has a proven track record on marine engineering solutions. Its experience in serving shipping industry customer needs has been transformed in proven solutions in three key areas:
Integrated solutions supporting the Reliability Centered Maintenance
Systems promoting the Intelligent Ship capabilities
Marine Fuel and Lube administration and treatment systems
Since 1972, Martechnic Navigation Ltd  has been involved in different projects such as the
Development of fuel and lubricant monitoring equipment of quantity and quality
Development of IMACS, a continuous monitoring system in all vessel's engineering equipment, and applied what we call proactive maintenance
Design and installation of Sea Water Scrubber Krystallon
Representative of Hellenic Register of Shipping and two other classification societies.
Technical Management in over a hundred individual vessels along all these years
With more than 50 years of experience in ship management, Martechnic Navigation Ltd. provides secure and compatible operations through transparency, preventive action, and strong partnerships. Our company offers a full range of ship management and shipping support services to shipowners and operators worldwide. Our clients are able to combine these services in unique combinations to meet their specific needs and increase their profits. At the same time, our company provides various digital tools that allow shipowners and operators to monitor their ships digitally.
Since 1972, Martechnic Navigation has taken over the management for operation and chartering of about 60 vessels in Dry cargo and Tankers. The chartering department has 3,700 fixtures for all these vessels.
The company began its activities by trading goods among Mediterranean countries. Since then, we have expanded substantially both in size and scope. Today, our export categories include industrial and chemical products, foodstuff, raw materials, metals, oil and gas. Commodities that are traded internationally and to many different segments of the world market.
To ensure a high standard of service, Martechnic Navigation LTD has developed a worldwide network of reputable contacts in key countries such as the United States, the United Arab Emirates, Brazil, the Philippines, the United Kingdom, the Netherlands, Russia, China, Argentina, Israel, Turkey.
Our goal is to offer our clients exceptional service. We do this by studying each market thoroughly for full understanding of its particularities, and by applying our knowledge to a client's specific requirements.
Further, we are committed to the concept of total reliability. Our policy is to ensure that buyers and sellers feel security when entering into a trade transaction with us.
We would like our clients to feel that they are more than just a customer. Rather, we would like each to view his business transactions with us as a professional relationship. A professional dealing with a company of professionals on whom he can rely. Martechnic Navigation LTD also has limited activities in barter trading in various commodities.
Maritime software solutions
Carbon Intensity Indicator (CII) optimization software
Reduce your vessel's carbon intensity by using a complete but at the same time simplistic software. Based on strategic models and management solutions, you can optimize the operations of your vessel.
Choose real-time ship management software that suits your business and increase your business profitability. Our company offers a wide range of software that covers the entire range of your business such as:
Shipmanagement Software.
Vessel Crewing Software.
Freight Collections Software.
ISM Software.
Marine Accounting Software.
Shipboard MGA Software.
Martechnic Navigation Ltd. among the other activities it has , has established a dedicate company's section to supply high quality water treatment systems and accessories to our Marine Clients.
Our systems treats the water just before entering the glass or the cooking equipment removing the harmful contaminants and sediments that, based on our experience, are present in most vessel's water networks (i.e. tanks and piping). In addition, our systems provide a sufficient solution to the unwanted situation of the usually unattended shipment of bottled water, which doesn't ensure the correct transportation conditions indicated in bottled water labels (i.e. store / transport the bottle in dry and cool place below 18°C, out of direct sunlight and away from toxic chemicals).
The Aquarius Plus has already installed on more than 400 vessels worldwide.
Advantages of Aquarius Plus
Removal of over 95% of total diluted solid particles, 99% of all organic substances, destroy about 99,99 % of bacteria, virus and other microbe
Reduce up to 99% of chlorine
Reduce effectively lead, mercury and radium to the potable water
Certified for removal of more infective factors bad for the health comparing system based only to activated carbon filters
Use of filter of control able addition of metallic ingredients like magnesium (Mg), calcium (Ca), sodium (Na) and fluorine (F),demanding ingredients for the healthy grown of the human body
Improves the flavor, smell and limpidity of the water.
Improves the flavor of drinks and foods
Uses control instrument to measure quality of water as well as the status of the filters
Sufficient water flow for reduced filling time for bottles and glasses
Long period of filter lifetime
Compact / robust design ( Aquarius Plus: Stainless steel casing INOX 304) in order to conserves pace and with stand harsh sea environment and hits
Easy use, installation and replacing of filters by crew
Costs lower than bottled water per year , cost for transportations , cost for waste management etc
NSF® ( National Sanitation Foundation ) International standards water storage tank and filters
FDA® ( U.S. Food and Drug Administration ) approved polypropylene made flat cap housing (double O-ring )
National Technical University of Athens (NTUA) Approval
Contact Us
Please use this form to contact us and we will get back to you as soon as possible!